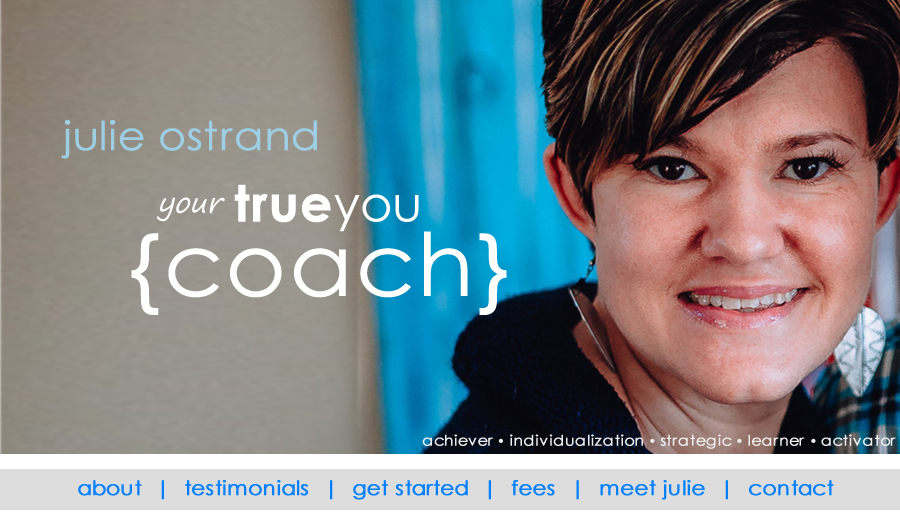 Discover the True You (your authentic strengths and giftings) to find your purpose and calling...for individuals, teams and organizations.
Gallup research proves that you will succeed when you can focus on what you do best.

When you identify your talents and develop them into strengths...you are more productive, perform better, and are more engaged.

Gallup's Clifton StrengthsFinder assessment results give you a way to discuss and develop your unique combination of skills, talents, and knowledge -- also known as "strengths."

There are 34 "strength themes" and most people begin by focusing on their "top 5 strengths."


What is Strength Finders "Top 5 Coaching?"

Coaching helps you understand, celebrate and make a plan to develop your Top 5 Strengths. In your coaching session you will...

understand why you have "always done it this way"
uncover the reason you are naturally so good at certain things
reflect on how your strengths have been both a positive and negative force in your life
realize that what comes so easily to you does not for others and why
harness your incredible talents to achieve your career and relationship goals
achieve more balance in areas where you have struggled in the past
discover new purpose and calling for the next season of your life

At the end of our session, we will both want to stand up and give an ovation to the incredible True You!

Adults (who want to be more self-aware, grow their talents and make a plan to find new purpose and passion in their career and relationships)

Families (couple coaching and teen coaching)

Teams (companies and organization – be more productive, resolve conflict and have more fun together)
Alex
(service coordinator)

Sherri
(designer)

"Being coached by Julie, I was able to see my specific needs and motivators as positive qualities rather than negative. Becoming more in tune with my strengths helped establish more confidence and pride, not only at work, but in my relationships. Julie was an amazing coach! Full of compassion, knowledge, and understanding. The time spent being coached was a life long investment."
"Julie is genuinely interested in bringing out the best in her clients -- and removing the roadblocks to getting them there. Thoughtful, insightful and engaging, and an attentive listener, Julie is the consummate encourager. She has definitely helped me to move past some of the ways I was stopping myself by helping me to embrace my unique gifts (that before felt like liabilities). That alone is worth the time. Thank you, Julie!"

Lindsey
(nurse)

David
(sales)
"Not only did Julie teach me about my strengths but she also opened my mind to practical ways I could use my strengths in day-to-day life. I left our coaching session feeling confident about the way I am made and the ways in which I function."
"For years, I have been a proponent of the Strength Finders process. My coaching session with Julie helped clarify in my mind how I can better live out my God given strengths and gifts. Julie has an awesome ability to help make one think and self analyze with her thoughtful questions and perspectives. "

Iris
(office coordinator)

Katina
(photographer)

"Sitting with Julie via skype and talking through my strength finders results was a huge gift. I was excited to learn more about my strengths, but was not expecting to almost be in tears reading through some of the results. I felt permission to step more fully into who I was made to be, and not try to push aside those things as something that does not bring out the essence of who God has made me to be. Julie is exuberant, real, and a friend. She rocks! As she coaches you on your journey of discovery, you will be blessed and others around you will be as well."
"I just had my strengths coaching session with Julie, it was both insightful and incredibly helpful as a business owner. Julie was very thorough and encouraging, I can't recommend her enough. I am so blessed to have met her and look forward to implementing the ideas we discussed. This has been life changing!"

Laura
(teacher)

Scott
(marketing)
"I loved the time that Julie spent with me going over my strengths. Her passion for helping others understand how to function out of their strengths really helped me and my husband to better understand how I am wired. I'm excited to see how this new understanding plays out as I go back to my teaching job in the fall.
I enjoyed getting to know my strengths and how to leverage them throughout every day life. My goal is to move beyond what I'm used to doing, changing past patterns, to make positive changes with myfamily and at work. Julie's descriptive knowledge in pointing out scenarios for each strength helped me see the benefits of setting and achieving goals.
Chanin
(professor)

Sasha
(home maker)

"Do I look pensive? While I knew I was an introvert, my meeting with Julie more importantly revealed my greatest needs based on my strengths - one of which is trying to give myself permission to have alone time and permission to clear my calendar. I have gone back to our talk several times in my head. Thanks for taking the time to do that with me, Julie!"
"My Coaching session was refreshing and deeply informative. This may seem silly but I'll say it anyway, it was almost like 2 years of personal development counseling rolled into 2 hours. I found it helped me in understanding my strengths in a way I never would have been able to by just reading the information I was given."

Joy
(professor)

Brandy
(esthetician)
"Julie's coaching helped me to understand that I wasn't crazy-I just wasn't doing the things that God created me to do. I was feeling frustrated, but now I feel encouraged to make changes in my life."
"I loved my session with Julie. She really helped me to understand that I need to stop trying to work on my weaknesses and to instead focus on my strengths! I left the session with a doable action plan."
Just take these 2 easy steps...

1. Take the Clifton StrengthsFinder assessment to discover your strengths ($15)

Note: Set aside 45 min - 60 min of uninterrupted time to answer the questionnaire. There are 180 questions and each question is timed (you have 20 seconds to answer).

2. After taking the assessment, contact Julie (julie@karlandjulie.com) with your Top 5 and she will walk you through the process to get coached!

Location: 2 hour coaching session can be done in person if you are in Omaha, Nebraska – or via FaceTime or Skype if you live outside the area.
$150 Individual Coaching

$200 Couples Coaching

Team Coaching
( prices based on team size)
2 hour individual coaching session

understand your individual strengths
discuss your key needs and motivations
action steps to grow and develop

What's Next – You will walk away with 3 clear goals of exciting things you want to accomplish for yourself, leveraging your strengths to help you meet these goals.

Follow-up – 4 week follow-up

4 hours of couple's coaching (usually broken into two separate 2 hour blocks on different days)

understand your individual strengths and how this effects your dynamic as a couple
help each partner appreciate the other's key needs and motivations
action steps to grow and develop, especially as it relates to your relationship

What's Next – You will walk away with 3 clear goals of exciting things you want to accomplish (especially as it relates to your marriage and family), leveraging your strengths to help you meet these goals.

Follow-up – 4 week follow-up

1.5-2 hours of "Individual Coaching" for each team member - $125 per person

2.5 hours of "Team Coaching" with entire team all together - $200 for team

Discuss top strengths of each team member with the team and how this effects the group dynamics, especially as it relates to...

understanding how to better leverage your own strengths within a group
processing how the strengths of others can complement and add synergy to everyone in the group
improving relationships by appreciating the motivations and needs of others
enhancing the team culture and ability to work together to meet organization's goals

What's Next – You will walk away with 3 clear goals of exciting things you want to accomplish as a team, leveraging your collective strengths to meet these goals.

Follow-up – 4 week follow-up
* Prices are in addition to the $15 Gallup charges you directly.
Who is Julie Ostrand (True You Coach)?

I am married to an incredible man with 5 kids who are my daily adventure.

After spending 10 years working for a web development company here in Omaha (in graphic design, sales, marketing and management), I became a missionary and moved with my family to Africa for 5 years.

While we were there, we served with All Nations Cape Town and my husband Karl coached in a soccer academy with Ubuntu Football Academy. I focused on helping women with job skills and starting small businesses (EmpowerAMom.com and BeautifulChanges.co.za).

Great stuff! We loved every moment.

Even through Strength Finders originated here in Nebraska, it was not until I moved to Africa that I fell in love with it! Nearly everyone in our organization knew their "Top 5 Strengths" and almost all of us had received individual coaching.

It was life changing! We could see how much being coached changed our marriage, friendships and team dynamics with better communication, self-awareness and growth!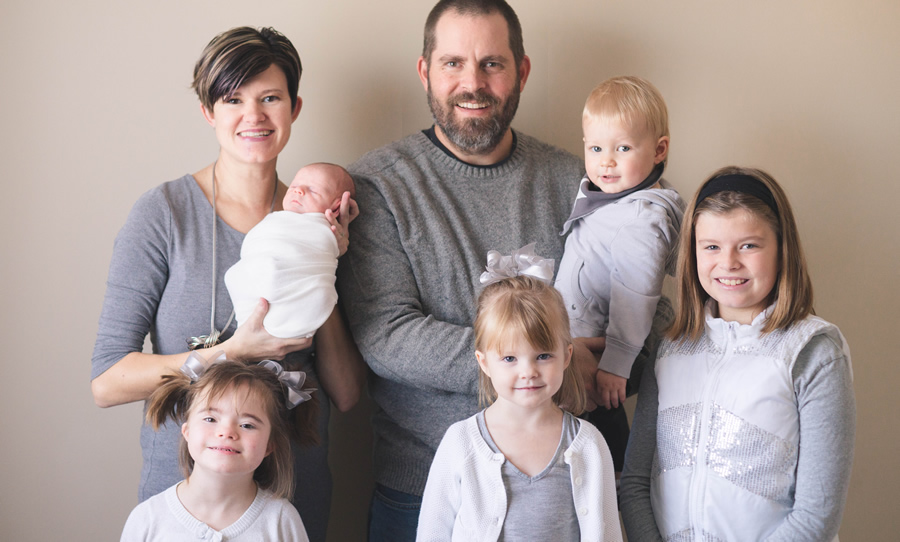 After my husband and I were both coached together on our Top 5...I learned that I had been on a "hamster wheel"...

With my I was continually researching and learning about ideas.
Then I naturally used my to make a great plan, which led to my getting it off the ground.
I built a team around the best qualities of others with my .
Working hard, I reached my goals with my

Sounds good? Right?

The only problem was that my "strengths" were running away with me! I was not taking time for a balanced family life and celebrating these accomplishments. It never felt like I was doing enough!

Strengths coaching helped me take control of my talents (instead of letting them control me...as they had done for much of my life). I realized I had the ability to "turn off and on" my strengths at will, to better serve my goals.

By being coached with my husband...I learned how to better respect his ADAPTABLITY (ability to turn on a dime and take care of all the inconvenient details of daily life as they came up) and not take advantage of his willingness to respond to every crisis or family need.

Whew! That realization, along with many others, was a big win for our marriage!

I love the idea that we all have a purpose...a calling...something we were designed to do, that only we can do. Something that, frankly, if we don't do it - no one else will.

Embracing your calling is first about fully accepting who you are designed to be.

It's about welcoming that design, calling it good and leveraging that knowledge to fulfil your calling and purpose. You have a God-given destiny...step into it!

Simply take your StrengthsFinder assessment to discover your strengths ($15) then contact me to set up your "Top 5 Coaching Session" ($150).

It will be worth every penny to be empowered to live the beautiful life you were designed to enjoy...and step into the next phase of your amazing destiny!
Make an appointment or ask questions! Contact Julie at julie@karlandjulie.com or 402.609.6410.

Note: 2 hour coaching session can be done in person if you are in Omaha, Nebraska – or via FaceTime or Skype if you live outside the area.